Lurking near the park and within a local woods next to a small creek, Hollows have gathered in Karakura. A tear from Hueco Mundo has allowed a new outlet for Hollows to reap on living souls and the newly departed.

Kitana_Matsuri

Co-Owner




Posts

: 84

Character Info
Name: Grimmjow Jeagerjaques
Rank: Sexta Espada
Abilities/Items:


Like hell would he ever admit to being here for reasons past slaughtering high powered Shinigami and the like. In reality, it was another breach from Hueco Mundo that was driving his patience past their limits. There was still so much devastation on Las Noches itself from the war and this was not the time for his mindless brethren to be provoking Soul Society. It was really getting down to that point and he knew some damage control had to be done. Normally he could give shit all for who died and how, yet there was a tension buried into the back of his skull that didn't let him sit still.

By no means was he trying to save humans or be one of the 'good guys'. In fact, he had a myriad of frustrations that needed to be remedied and that was a good enough excuse to exterminate the Hollow's which gathered.

Taking note to an oddly shaped Hollow that scuttled back and forth much like a crab, it spotted him and had the audacity to let out a challenging roar in his direction. The Sexta Espada bared his teeth in return, a mass of energy already forming in his palm. He wouldn't waste a Cero, but a Bala was quick to charge and speedy on initial release.

Thrusting out his palm, a sardonic grin came to his face upon the Bala shooting from his hand and delivering a quick death. Impact ripped the skull clean off, leaving a spurt of vermilion as the body of said Hollow disintegrated.

"Che." He snorted, already padding off as he could feel the strains of mindless Hollow attempting to eat one another a little ways toward the creek.
____________________

Kitana_Matsuri

Co-Owner




Posts

: 84

Character Info
Name: Grimmjow Jeagerjaques
Rank: Sexta Espada
Abilities/Items:


With a graceful step, Kuchiki Byakuya entered the Living World, just slightly annoyed by Captain Commander's constant orders which were leading to the point of ridicule. Yes, they were understaffed. Yes, the Soul Society was still getting on its feet. But no, there was no need for a captain and a head of a noble house to be sent on such missions. The noble was almost sure the Captain Commander did all that only to spite him. People were often fooled by the old man's look. Most would say the man was not a child and had no time for such games, but Byakuya knew better.

Kuchiki's own little rants and reasoning would have continued if a large amount of reiatsu hadn't nudged him. Dark blue eyes focused on dark background of a nearby park. At least this time there was a reason for his assistance in the battle. The captain was no little surprised when he realized the sudden need for calling out his Zanpakuto's name - for some action. Something inside that body was boiling up.

On the outside, there was no change - the always so cold expression remained as such; the perfect composure remained unchanged. But on the inside - the noble was a mess - at least compared to the usual calmness he was filled with. That high-spirited boy inside was thirsting for... for something he didn't experience for a long time - the untied sweat-damped hair, the pain of damaged skin, the action itself. And for some wild reason, he hoped he would find it there, with that reiatsu.

Shunpo took him closer to the source of that wild reiatsu. And oh, boy, did he found an interesting scene. What he could tell from what the mad scientist rant about, it was the 6th Espada, Grimmjow Jeagerjaques. There was no mistake to it. The blue haired Arrancar looked annoyed. Byakuya couldn't tell why, but he was somehow intrigued by it. It didn't make any sense to him. And the fact that it both intrigued him and yet had no sense to him, made him even more agitated.

Slim fingers tightened around the bright pink hilt. The noble was eager to step in and fight the blue haired Espada, still with no reason but for pure enjoyment, but he waited for Grimmjow to face him. This was the first time in long time, or first time ever, the captain let out massive amounts of reiatsu just so he could be easily spotted. Well, with that amount of reiatsu, he could've been be spotted from a very large distance.

Kuchiki Byakuya wanted this fight. He needed it badly. He needed to take all that frustration out of his system.
____________________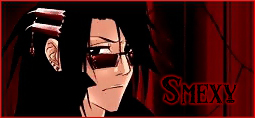 Sunbriel

Owner




Posts

: 243

Character Info
Name: Kuchiki Byakuya
Rank: Captain of 6th Division
Abilities/Items:


Another day patrolling the town. For Ichigo, this was now part his daily routine now that he was a Shinigami. He didn't mind it actually. As long as it doesn't affect his social life, he could do this all day. Jumping from rooftop to rooftop, Ichigo felt little reiastus around here. It was time to move on to another area. There was one more area to check and that was the park. He wanted to make this quick so he can go home and call it a day.

From one of the rooftop, he saw the park not too far ahead. Just as he was about to Shunpo to that area, he heard a loud roar close by and looked around. "That's not good." He looked up at the sky, a saw a tear which meant hollows were entering the town. "Yep. That's definitely not good." It seems as if they were headed to the park, which was very convenient since he was just about to head to that area. "Finally some action." He shunpo at the edge of the park and he was immediately confronted by a dog looking hollow. It gave a loud roar, probably showing it had no fear. A smirked appeared of Ichigo's face as he grabbed his Zanpakuto. Without saying a word, he dashed through the hollow and sliced it's body in half through it's head. It gave a loud roar of agony and slowly dissipated.

Ichigo ran deep into the woods, slicing incoming hollows and following a strong reiastus nearby. He didn't know what it was, but he intended to find out. As he got closer, he realized that the the strong reiastus was actually two separate reiastus in the same area. It seemed there was a confrontation between these two, and he wanted to know it was. Another hollow fell victim to his Zanpakuto as he was getting closer and closer.

He finally arrived to the scene where the two reiastus was his question was finally answered. The two reiastus was actually Byakuya and Grimmjow. Grimmjow hasn't noticed Byakuya yet, since he approached him, but it looks like he will. Already Byakuya was releasing a massive amount of reiastus just to be noticed. Ichigo approached Byakuya before he confronted Grimmjow. "It seemed as if you got here before I did. I'll let you take care of Grimmjow. As much as I really want to kick his ass, I figured your the first one to confront him, so he is all yours. While you take on him, I take care of the hollows."

Just as he finished his sentenced, another loud roar was heard as several Menos appeared nearby. Ichigo gave a loud sigh when he saw this and shooked his head. " Looks like I have to face Menos too. Well, Byakuya, good luck." He turned his attention towards Grimmjow who had his back facing them as he yelled, "Hey dumbass! Someone is here to see you!" He turned back his attention towards Byakuya and smiled. "There, that should catch his attention. I'm off. Just me a signal if you need any help. Keyword is IF." With that he shunpo to another area, to fight off another horde of Hollows.
____________________

xdark_ichigox




Posts

: 90

Character Info
Name: Kurosaki Ichigo
Rank: Substitute Shinigami/Vizard
Abilities/Items:


The little senses of his awareness perked considerabley, like a vague buzz at the back of his mind. A Shinigami was close enough to the area, obviously for the apparent reasons of this infestation. If anything, he was expecting an appearance made by Soul Society's Shinigami. To not have the common sense to expect such, was flat out ignorant. Sounds of impatience stole the forefront of his attention long enough to skid back from an attack. Yet another Hollow was gunning to ride his ass. What a goddamn mess… Insulted, Grimmjow truly hoped he wasn't like this as a baser Hollow. Taking on an Espada as nothing more than a few hundred souls was pathetic and suicidal.

Rearing back a fist, he had to divide his attention properly when he felt a calling of challenge in the form of evident reiatsu saturating the area via a strong Shinigami. Noting that it begged to be his largest priority, he moved to dispatch the hissing Hollow with a powerful fist through the torso. A torrent of blood oozed down his arm and splattered his immaculate uniform as a howl of agony ripped through the air. Allowing a satisfied grin, the Sexta angled his hand and ripped his fingers upward to tear into the esophagus and out through the crown of a horned skull. Shards of bone torn by sheer force flew to the side as the familiar sight of a Hollow's death distorted the space.

Wretched clots of gore hung from his hand, strands of tendon and claret bathed tissue sliding off to plop into the grass. Grimmjow wasn't even remotely concerned about the mess however. In the time it took his fist to penetrate through skull bone from the inside, he'd already noticed Kurosaki running around like the rampant little shit he was. If there was any consolation, it came from the large hunch he knew he'd been spotted and that right now he wasn't on that hybrid's list of people to bother. Instead he was turning with agile movement, languid in a lazy yet deadly fashion. Upon inspection, cerulean eyes narrowed in on his new target clad in black and white. The robe over usual Shinigami garb was something he actually remembered. So they sent a Taichou did they? Well, they could bring em' all on.

Plastering on an easy going grin that betrayed the malevolent destruction glowing in his eyes, Grimmjow decided that Hollow extermination was best left to the little dip shit brandishing an oversized cleaver.

"Ya gonna crash my party so soon?" He wouldn't be remotely surprised if he became prime suspect and designated perpetrator for all the other Hollow's running unchecked.

It would be just like some uninformed Shinigami to assume that kind of thing.
____________________

Kitana_Matsuri

Co-Owner




Posts

: 84

Character Info
Name: Grimmjow Jeagerjaques
Rank: Sexta Espada
Abilities/Items:


((I respect fellow RPers, but the line between ignorance and stupidity, and common sense had to be drawn. The previous two posts have been respectfully deleted. By the way, I laughed my ass at the, now last post. And I'm sorry for the very short and very late reply!))
He wasn't bothered by it - by the scene of massacre. No, if that were the case, it would only mean the man cared about the low-life Hollow who knew of nothing but killing and feasting of helpless souls. The noble showed no interest in such scum. But damn, if Kuchiki Byakuya wasn't intrigued by those wild blue eyes that seemed as though they were thirsting for a refreshment.
Captain stepped out, his composure as perfect as ever. Dark eyes narrowed slightly, searching Espada's face. An almost-smile touched Byakuya's pale lips.
"I did not think you enjoyed the company of such scum. Grimmjow Jeagerjaques."
Not a moment after, a tiger-like Hollow appeared behind Byakuya, with its sharp teeth pointing towards 6th Division captain. "Scum has no manners." Byakuya pointed two fingers towards the Hollow behind him, tilting his head to the right to get a look of the target. "Hadou no yon, Byakurai." For a second, everything behind him turned into bright blue color. With the light disappeared the Hollow who tried to attack him, and with the Hollow disappeared seven rows of the trees that got in the way of the spell.
With another movement of his right hand, noble unsheathed his katana and pointed it at Sexta Espada's throat. His grip around the hilt was almost painful. But that was nothing in comparison to the burning want to take his frustration out at the man that stood in front of him. Captain searched for a good, long fight; the clash of katana.
____________________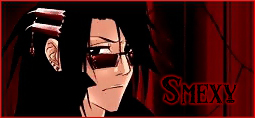 Sunbriel

Owner




Posts

: 243

Character Info
Name: Kuchiki Byakuya
Rank: Captain of 6th Division
Abilities/Items:


A giddy sort of anticipation swelled behind his pectorals, egging on his pulse to a more obvious thumping. The vague glimmer of interest and intense way the Shinigami looked at him... He craved the attention. Basked in it, even.

Grimmjow mirrored that interest right back, not even bothering to hide his excitement when that kido spell tore through limb and nature alike.

"Who said they were my company to begin with?" Amusement littered the words with taunting.

He knew that with the noble, he was stepping on egg shells. Yet something felt different. More wild and less controlled. It was exactly the feeling he'd wanted to rip out from a tamed Shinigami. All that fury and instinct; bared wide open and waiting to crash through rational.

With sudden movement catching his eye, the challenge within a well pointed katana had him grinning. Senbonzakura's sleek edge held promise of twisted confrontation that begged for impending destruction. Not a coward in the least, Grimmjow would comply.

Pantera slid clean into his palm, the movement near mechanical as he held it loosely around the hilt.

"Gonna come at me, Shinigami?" He couldn't bring himself to be anything less than an antagonist.

Upon the light hum of approval from Pantera, his pupils contracted to near pin pricks, exposing electric blue with a menacing ferocity.
____________________

Kitana_Matsuri

Co-Owner




Posts

: 84

Character Info
Name: Grimmjow Jeagerjaques
Rank: Sexta Espada
Abilities/Items:




Similar topics
---
Permissions in this forum:
You
cannot
reply to topics in this forum